In Spanish
In English
1. YOU AT YOUR BEST PROFILE
Dr. Carlos Alberto Suarez is a family physician who practices both traditional and alternative medicine. He takes particular pride in treating patients who have become frustrated after unsuccessfully trying numerous treatments. "I like to give them back hope," Suarez said. "For the most part, my work is concentrated on treating anxiety and pain, but I do the full extent of medical acupuncture." His training credentials include a 330-hour medical acupuncture course at Helms Medical Institute at UCLA in Los Angeles. Suarez is board certified by the American Academy of Family Physicians and the American Academy of Medical Acupuncture. He is also trained in Reiki, an Eastern technique aimed at reducing stress, increasing relaxation and promoting healing. He earned the title of Reiki Practitioner Level I from master instructor Sylvia Lagergren in Johnson City, Tenn. Originally from Peru, Suarez has worked as a general practitioner in impoverished areas of Lima, where he also taught high school students about preventive medicine. Suarez's main interests and hobbies are table tennis, movies, listening to '80s music, metaphysics and energy healing, traveling and admiring nature. Suarez holds unrestricted medical licenses in Arkansas, Oregon, Tennessee and Virginia. His office is at 3291 South Thompson D101-Springdale. Appointments can be made by calling (479) 419-9955.
2. INTERVIEW IN ARKANSAS MEDICAL NEWS
Family Medicine Specialist Includes Acupuncture and Nutrition Counseling as Part of Integrative Medicine Practice
Posted: Monday, June 17, 2013 2:29 pm
Carlos Suarez
SPRINGDALE – Carlos Alberto Suarez, MD, FAAMA, a native of Peru, has found that combining conventional and alternative medicine in one practice is well received by his patients at Springdale Health LLC. In addition to being board certified in family medicine, Suarez also practices acupuncture and does nutritional and herb\supplement counseling.
Suarez said physicians are sometimes worried and frustrated by how to treat conditions such as chronic pain and anxiety. These conditions do not respond well to medical therapies, especially when they become a chronic problem.
"These chronic conditions are treated effectively with acupuncture," said Suarez, who is a diplomat from the American Board of Medical Acupuncture and a Fellow of the American Academy of Medical Acupuncture. "My colleagues are realizing that there is use for medical acupuncture and alternative medicine as a part of the multi-specialty team for treatment of chronic conditions."
Patients seem to be interested in new and natural ways of healing. But it isn't unusual initially for them to have mixed emotions with respect to the acupuncture needles due to the fear of pain. "However, once they try acupuncture, they realize that the procedure is minimally painful and so extremely effective treating many health conditions that they keep coming back for more treatments," Suarez said.
His patients report that acupuncture can help them when other therapies don't.
"Issues like chronic depression, fibromyalgia, menopause and fatigue are treated effectively and naturally with a combination of acupuncture and Chinese herbs," Suarez said. "I also offer optimized, researched and sometimes even evidence based supplements and herbs to complement patient treatments. We usually do not talk cures, but do offer serious relief to our patients who get a consult and a streamlined plan to optimize their health and effectively treat their ailments."
Suarez received his medical degree from Universidad Peruana Cayetano Heredia in Lima, Peru, and was licensed in 2000 by the Peruvian College of Physicians. In 2003 he moved to Kingsport, Tenn., to attend East Tennessee State University. He completed his family medicine residency program in 2006, and became board certified in family medicine.
Suarez got interested in medical alternatives because while he was at East Tennessee, he had a program director – Reid Blackwelder, MD, FAAFP, who's now president-elect of the American Academy of Family Medicine – who was very alternative medicine oriented. Blackwelder recommended Suarez take a nutrition course at the University of Arizona with Andrew Weil, MD, who has authored many best selling health books and is considered the father of integrative medicine in the U.S.
"There I heard about what medical acupuncture could do and met a few practitioners at that course," Suarez said. "At that point, I was extremely impressed. Then I decided to take the Helms Medical Institute Acupuncture course, which is for physicians only. Later on, I took the board exams and got my Fellowship in Medical Acupuncture. It is likely the best investment and best learning path of my life so far."
His patients are not surprised by what he offers. Most of them embrace old, new and natural ways of healing.
"Some of them take advantage of us as being a one-stop place to get their health taken care of holistically," Suarez said. "I practice what is called integrative medicine, an all-inclusive medicine rather than the fragmented specialty driven medicine which is so prevalent these days." Treatment offered is in addition t0 –rather than as a replacement for – conventional medical treatments.
"For example, if a patient comes to us and is under the care of another health professional for primary care, we would never take their pills away," Suarez said. "We are not against pills. However, we would start nutrition therapies that can lower the need for pharmaceuticals. We help the patient's bodies heal from within."
Suarez said he feels he is able to offer his patients the best of both worlds.
"That is exactly what integrative medicine is all about," he said. "I try my best to offer options and treatment plans to patients that actually try to address the cause of the problem, rather than chasing symptoms."
3. NEEDLE FREE ACUPUNCTURE
Needle Free Acupuncture? Now There is a Way to Get Acupuncture Without the Pain.
Are you needle phobic? Most patients that hear about Acupuncture are scared of needles. A physician in Springdale now offers laser acupuncture and ear acupuncture which as 100% needle free to cater to children and people afraid of needles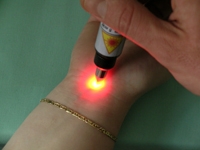 Springdale, AR, June 06, 2013 –(PR.com)– Pain is a sensation most humans fear and want to avoid.
According to the Institute of Medicine, there are 100 million Americans that suffer from some sort of chronic pain. This is almost one third of the country's population. Our usual medical care usually doesn't address the causes of pain and relieves it only partially and incompletely. Medications and injections usually have a myriad of side effects and consequences.
Acupuncture has been showing promise to treat different kinds of conditions including headaches, back pain, neck pain, knee pain, and other conditions such as nausea, asthma, chronic lung disease, etc.
Paradoxically, pain related needling is feared by many people, especially children. This is one of the reasons why they avoid an acupuncture specialist.
At Springdale Health, in Springdale, Arkansas a physician is treating these issues with needle Free alternatives (on top of usual needle acupuncture care). These include laser and pellet acupuncture. Dr. Suarez is able to achieve pain free or nearly pain free status very quickly with such techniques.
The advantage of the treatment at Springdale Health is that Dr. Suarez is double Board Certified in Family Medicine and Medical Acupuncture. As a physician he is able to get a thorough diagnosis via Western Medicine and as a Medical Acupuncturist and Integrative Medicine practitioner he is also able to use Eastern Medicine or Alternative Medicine such as Supplements, Chinese herbs and Acupuncture in addition to any Western Medicine treatment he feels is appropriate for the optimal treatment of the patient.
Patients can find out more about Springdale Health by visiting the clinic at 3291 South Thompson D101 Springdale, calling 479-419-9955, or visiting www.springdalehealth.org or on facebook visiting Springdalehealth.